There are different types of house foundation. The foundation is the first and most important step in building your new home. The foundation can vary depending on the location, climate, soil conditions and budget.
Basement Foundation
        It is the deepest  and most expensive foundation that begins with a hole of at least 8 feet deep. Structural foundation walls are places on concrete footings that run the perimeter of the basement where they pour beams, erect foundation walls, and pour a cement slab inside the walls. Basement foundations provide the advantage of an extra living space under the house. They are durable and resistant to fire and extreme weather.
Full basement foundation – the size of the basement is the same as the size of the house. Full basement foundation is also the most expensive foundation you can get.





Daylight basement foundation – is usually built on a hillside where at least one of the sides is exposed to daylight. Not advised to build that in flooding areas.
Crawlspace Foundation
     It is exactly what is sounds like – it is foundation high enough for you to crawl under but still has space to store your things. This foundation is made to elevate the house for climate reasons like flooding or earthquakes or because of aesthetic point of view. They are cheaper option than the basement foundation. You have easy access to wiring, plumbing and other mechanical systems. Comparing to the basement foundation, the crawlspace one needs more maintains.
Slab foundation
      A slab foundation is the most common types of house foundation. it is an easy, quick and cheap foundation to build. it is actually a flat concrete slab that rests on the ground and is poured in one single piece. It is not preferred for cold weather place because of the ground getting frozen it may a crack. Another con is that wiring and plumbing is placed before the concrete is poured so if you have any issues with the plumbing you'll have to cut into the slab to access the pipes. 
Basement vs Slab vs Crawl
Permanent Wood foundation
     This is not a very popular foundation anymore. Wood foundations are often standard in northern areas. They can have a crawl space underneath, too. It's also common to find basements that layer pressure-treated wood on top of concrete floors—but technically, such a combination would count as a concrete foundation.
Pier and Beam Foundation
     This Foundation consists of concrete piers that are set deep into the ground to bear the weight of the structure. usually elevated about 18 inches, creating a crawlspace beneath the home. They are easily built and less expensive but not suitable for earthquakes and hurricanes. In many parts of Texas, pier and beam foundations are a necessity, especially in areas that receive heavy rainfall, seasonal moisture, and flooding. There us easy access to plumbing and electrical systems underneath the home, protection from flood waters and lower energy costs. The area under the house gathers a lot of moisture. It is recommended that your planting beds slope down, away from the house, which will allow rain and groundwater to drain the opposite direction of your foundation. Tree roots are consistently seeking moisture and can extend very far from the trunk.  In the summer, when Texas weather is usually very dry some types of trees can take up 150 gallons of water daily.  This can be dangerous to your foundation if the tree is too close. This foundation is good for manufactured or mobile homes.
Block Foundation
     As the name implies, concrete block foundations are made of concrete or cinder blocks stacked together like bricks. The biggest difference and advantage of concrete block foundations is that they can typically hold more weight than poured concrete foundations. Keep in mind, though, that the gaps and grout lines of concrete block foundations make leaks a bit more likely.
Brick/ Mortar Foundation
      It was very common in the early 1900's to use brick and mortar to build foundation walls. If you have an older home you may notice this is your foundation type. Red brick and mortar were a commonly used building material at the time. The problem with these foundation walls is that over time, they can become weak. Mortar can break down, bricks can start to peel. The soil around these foundations will exert pressure on them, and push them in. This occurs commonly when the brick and mortar breakdown. Sometimes you can just have the mortar or brick repair by a masonry specialist, but sometimes the walls need to have added support.
Stone Foundation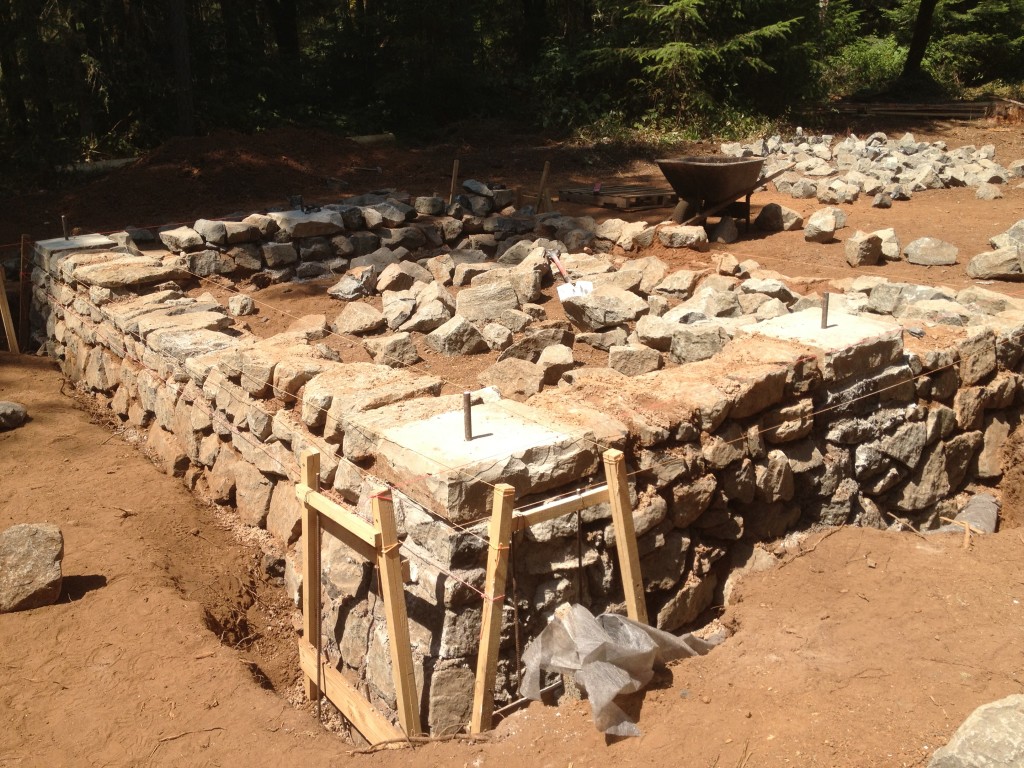 Stone basements are no longer common types of house foundation, but you might find them in older houses. These types of house foundations use a mixture of stones and a mixture of cement to form a solid barrier. They can crack and chip, so most builders shy away from such materials in modern homes.
Stilt Foundation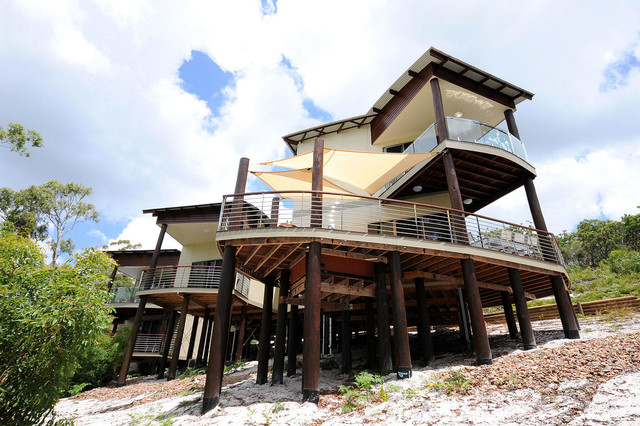 Stilt supports generally are used in houses on steep hillsides, and involve tall 4 x 4's holding up the house on the downslope side. These stilts are generally very flexible, which makes the building vulnerable to earthquake damage. Stilts can be strengthened by adding diagonal braces or plywood walls between the stilts. Additional bracing should be added at the corners beneath the main structure.